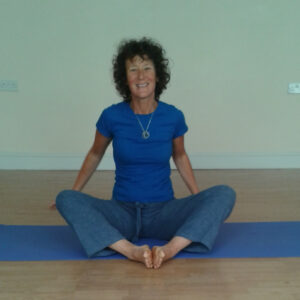 Through my 17 years of practising Yoga and my 10 years of teaching, I have witnessed just how significantly peoples' lives are improved by Yoga, including my own. When I first started practising I had a great deal of pain in my body, particularly in my hips and back. I also felt overwhelmed about being a mum of a boisterous 2 year old boy.
The Yoga, over time, allowed my body to become pain-free, energised and much more flexible and strong. Emotionally, spiritually and mentally I felt (and continue to feel) calmer, more in balance, have a greater sense of inner resources (able to deal with life's challenges) and a sense of joy, harmony and trust in Life. I also know that Yoga has supported me to release old emotional hurts that were stored in my body. From my experience of teaching I know that my students also feel transformed. Yoga has an accumulative effect – the more you practice (generally speaking) the better, on all levels, you feel.
I've trained with the British Wheel of Yoga and the Inner Yoga Trust and I continue to regularly update my practice. I am passionate about Yoga and love to share my enthusiasm and knowledge with my students. How could I not ? I have a background in nursing, social work and massage so bring the qualities of nurturance, compassion, care and an intuitive reading of bodies to my classes.
Lisa also offers one to one sessions
Are you feeling tired, achy, stiff and stressed ? Think that you are not flexible enough to do Yoga ? Do you long to feel free of tension and niggles, supple, calm and uplifted. ?
Yoga One to One sessions work effectively with your needs and your body and provide you with a home practice plan so that you can gain the maximum positive effects from your Yoga practice. Success Story, Andy, "I came to Lisa with two slipped discs, sciatica and a general air of misery. The best I hoped for was a bit of pain relief. To my surprise, and eternal gratitude, what I got is an absence of pain. I began to notice a difference within a month and, five months down the line, the pain and sleepless nights are a distant memory. I've also been known to crack a smile occasionally. Transformational."
lisasyogaforall.co.uk
Classes
Yoga for You
Some much needed me time –
This class is suitable for those beginning yoga and for those who have experience of the practice too. Lisa teaches a wide variety of postures to suit many needs and abilities and is experienced in creating classes where an atmosphere of compassion, warmth and acceptance are in place. Are you feeling stressed, tired, stiff, achy, and overwhelmed with everything you have to juggle in life?" Do you think that you are not flexible enough to do Yoga? Think Again. Practicing Yoga will give you renewed energy, help you feel calm, relieve tension, aches and niggles and improve your flexibility to feel better fast.
"Lisa is an excellent yoga teacher, her sensitive style allows for all levels and abilities to feel welcome and at ease in her class. She has excellent body awareness which is passed on to her students, empowering them to trust their body's inner wisdom. I look forward to my weekly class knowing my body and spirit will feel balanced and nourished afterwards" Rachel, Stroud
| | | |
| --- | --- | --- |
| Thursday | 9.30am - 11am | Studio 2 |
Contact
To book classes or make further enquiries contact the teacher: