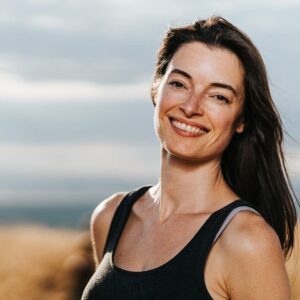 I practice yoga to keep my mind and body strong and flexible.
My practice adapts to my days and times of year and in this way has grown with me since I began practising Astanga yoga back in 2001.As so many of us do I fell in love with yoga simply for how it made me feel. My thirst for knowledge and understanding led me to take a BWY foundation course with Mara Musso and after several years of consistent practise I began my teacher training diploma with Triyoga in London (with mentor Joey Miles).
I went on to study with Uma Dinsmore Tuli both in pre and post natal yoga. I continue to study each year with various teachers. I feel privileged to be able to hold the space for students to (re)discover how their bodies can move, how they can build strength, flexibility and create ease both in the physical and emotional self, and how all these things are intertwined.
My vinyasa flow classes are physically challenging and fun. You'll likely work up a sweat, laugh a little along on the way and relax, relax, relax, leaving any worries and cares at the door.
Each month I hold a 90 or 120 minute workshop.
Please email for details, check out the website or my Facebook page.                                  See you on the mat!
Classes
Teen Yoga: Vinyasa Flow
Strength, resilience, calmness: your teen can discover the perfect tool box for a strong and healthy body and mind. Find ways to move to feel empowered, comfortable and strong. Find ways to relax and relieve stress, pressure and negative thought patterns. We'll use movement, breath techniques, visualisation and more.
My style of Vinyasa Flow Yoga combines the ancient system of yoga with modern science and research into physical strength, flexibility and a positive sense of self.
Sign-up for blocks of four weeks and join me in the studio every Thursday at 4.30pm.
On Fridays you'll get an extra online session emailed to you, focussing on a short practice your teen can use at home if they want to.
£10 for a single session or sign up to 4 weeks for £32. Sibling discount available on request.
Ages approx 12-18. (Year 7 and up)
Book via Bookwhen link below
| | | |
| --- | --- | --- |
| Thursday | 4.30pm - 5.30pm | Studio 2 |
Vinyasa Flow
| | | |
| --- | --- | --- |
| Friday | 9.15am - 10.15am | Studio 1 |
| Saturday | 8am - 9am | Studio 2 |
| Saturday | 9.15am - 10.15am | Studio 2 |
Contact
To book classes or make further enquiries contact the teacher: