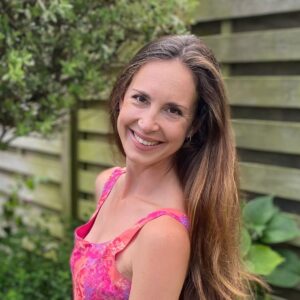 Natasha is a 900+ hour accredited Yoga teacher with the following trainings:
– 200 hr intensive Ashtanga/Vinyasa Yoga Teacher training in 2014 & 300+ hours of
advanced level TTC with her mentor Jim Harrington in Cape Town
– 300 hour advanced Yoga Synergy TTC with Simon Borg-Oliver in Goa, 2017
– 100 hr advanced level Vinyasa Yoga TTC in 2019 in Bali with Meghan Currie
– A range of short courses including Reiki Healing, adjustments for teachers, Ashtanga
Yoga workshop with Paramaguru Sharath Jois and Yoga for sports training.
Natasha first discovered Yoga in 2011 whilst studying a BA in Theatre & Performance at UCT.
Experiencing a sense of belonging from her first class, she had an intuition that this was not just
what she wanted to do, but what she was destined for in life.
Natashas' advanced training led her to Rishikesh, India on a Yoga & Meditation retreat, where she
followed practices taught by the Himalayan Institute of Yoga and Meditation. These
principles and breathing techniques are the foundation of her pranayama & meditation
practice that she teaches today.
Returning to India with the desire to go deeper, Natasha embarked on a pilgrimage to the Gomukh
Glacier (source of the Ganga River) which evoked a passion for trekking. She found herself
immersed in the culture for 6 years, joining various treks and teaching on retreats within the
Himalayas.
The combined experiences she has gained over the years have resulted in her practice and
teaching methods being infused with a range of approaches – Yoga Synergy being at the
centre.
Yoga Synergy has had a profound, healing influence on both Natashas' practice and
teaching, encouraging her to approach Yoga and life in general with a sense of compassion
(non-violence) and loving kindness. Natashas' purpose is to spread the healing benefits of Yoga by
creating a safer and more effective practice for the modern body.
Cost £12 each or 10 classes for £100
Classes
Yoga Synergy
| | | |
| --- | --- | --- |
| Monday | 9.30am - 10.30am | Studio 2 |
| Wednesday | 8pm - 9pm | Studio 2 |
Contact
To book classes or make further enquiries contact the teacher: