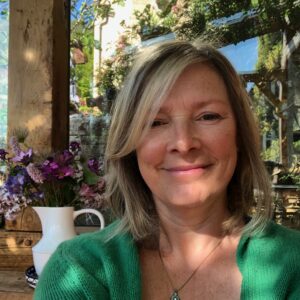 Dru Yoga Teacher dip: Dru Yoga Meditation Teacher dip. YOGIYOU dip.
"I came to yoga over 20 years ago when pregnant with my first child, it has carried me through the joys and challenges of motherhood and life in general. It is a great physical and emotional support. And it also looks after my body beautifully! I qualified  as a Dru Yoga teacher in 2003 and have continued to add post graduate trainings in both yoga and meditation, developing my knowledge and experience ever since, it's a life long, wonderful journey and will always be with me"
The beauty of Dru Yoga is that it combines flowing Energy Block Release sequences and postures designed to free the body, bringing strength, flexibility and balance to the whole. Dru focuses on the health of the spine in particular, which make it beneficial for back sufferers and people recovering from injury.
The yoga is both gentle and flowing but also dynamic, students are encouraged to 'listen' to their body, going with it not against it.
Rachel is also a qualified Dru Meditation teacher an often includes meditations in specific workshops.
" Whatever age you are, however stiff the joints and muscles of the body are, Dru yoga will ease your body gently into a place of improved comfort"
The word 'Yoga' means 'Union' between body, mind and our interconnectedness with all of life. The purpose of yoga practice is to find " Stillness"
If you are new to my classes then please drop me an email before booking 
Classes
Dru Yoga
Set firmly in ancient yogic tradition, Dru works on body, mind and spirit—improving strength and flexibility, creating core stability, building a heightened feeling of positivity, and deeply relaxing and rejuvenating your whole being.
Rachels classes focuses on Breath awareness with Flowing movements, both Gentle and Dynamic, building Strength and Flexibility, Energy block release sequences, Pranayama practices and Relaxation techniques to still the body and mind, bringing about a sense of Peace and Well being.
Dru Yoga has its roots in hatha yoga, and includes classical yoga postures (asanas), pranayama (the science of breath), mudras (hand gestures), positive affirmations, empowering visualisations, and powerful sequences, performed in a flowing and dynamic style.
Dru Yoga classes are tailored to the level of the individuals within the class and usually contain Energy Block Release Sequences (EBRs), postures, flowing yoga sequences, pranayama, relaxation and Dru Meditation.
| | | |
| --- | --- | --- |
| Monday | 6pm - 7pm | Studio 2 |
| Tuesday | 9.30am - 10.30am | Studio 2 |
| Tuesday | 6pm - 7pm | Studio 1 |
| Friday | 9.30am - 10.30am | Studio 2 |
Contact
To book classes or make further enquiries contact the teacher: