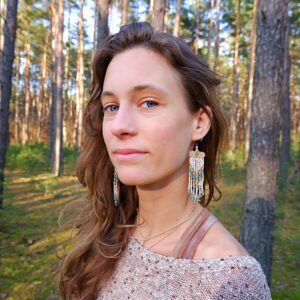 Having a dedicated Yoga practice since 2011 has been foundational to my journey of growth as a human being. The daily practice of moving inwards has increased my capacity to be reflective, mindful and compassionate. Over the years, I have grown from a place of struggling to accept myself to now enjoying and embracing who I am and what life brings my way. 
Through my experience, I have developed a personal philosophy of meeting myself and others from a place of kindness, care and understanding. I believe the desire to find meaning in one's life is universal. Yoga, for me, has become the channel through which I can shape a more meaningful life.
My calling to teach stems from a place of reverence at the wisdom stored within our bodies and a passion to meet people in this place. My yoga practice, grown across the last 10 years of my life, has led me into the philosophy of Shaiva Tantra and the physical practice of Krama Vinyasa, which have become deeply embedded both on a personal and professional level.
I'm passionate about self-discovery and growth on a subtle body level, through the exploration of the mind-body connection, yoga philosophy, asana, chanting and pranayama. Inclusivity & accessibility are at the heart of my offerings; I advocate for a more expansive and beautiful life for each, rooted in love and compassion.
I have been teaching classes for over six years and here are details of my completed trainings:
500h AYTTC in Shaiva Tantra Krama Vinyasa Yoga; Sarah Harlow & Sam Burkey
60h CPD Yoga Tantra Chakra Immersion Course; Sarah Harlow
60h CPD In Depth Anatomy and Adjustment Course; Sarah Harlow & Sam Buckey & Chris Gladwell
200h YTTC Hatha Yoga; Gaurav Malik & Kate Osman
Classes
Soulful Hatha Yoga
Vibrant. Empowering. Integrated.
An invitation to nourish yourself through steady practice. You can expect a dynamic beginning to enliven your nervous system energising you on a physical and more subtle level.
A focus on growing your practice from a place of awareness. Becoming attuned to what is alive within you in each moment, allowing you to express your individuality within your movement. You will be encouraged to connect with your unique rhythm through meditative reflection – empowering you to make this practice your own.
Finishing with some restorative postures and final Savasana with the intention to unravel deep feelings of spaciousness, balance and peace.
Come as you are – all levels welcome
Pricing: 
Single class £12
5 class pack £50 (use within 12 weeks) 
| | | |
| --- | --- | --- |
| Wednesday | 7.30am - 8.30am | Studio 2 |
Embodied Flow Yoga
Contemplative. Intentional. Poetic.
Journey through this mindfulness-based practice weaving philosophy into movement – creating a dance between your body, mind and soul. At the core of this offering is the belief that when stepping into your body, you step into a sacred space. A gentle and reflective approach can support you to tap into a deeper and more integrated sense of self.
This asana practice is used with intention and purpose to help strengthen your ability to become more present and decipher the wisdom communicated naturally through your body. We will be moving together at a steady pace, creating the space to explore and gradually expand your edges consciously and with heart.
Come as you are – all levels welcome.
Pricing: Single class £12
5 class pack £50 (use within 12 weeks)
| | | |
| --- | --- | --- |
| Friday | 6pm - 7pm | Studio 2 |
Contact
To book classes or make further enquiries contact the teacher: