Release & Replenish with Sam Bullingham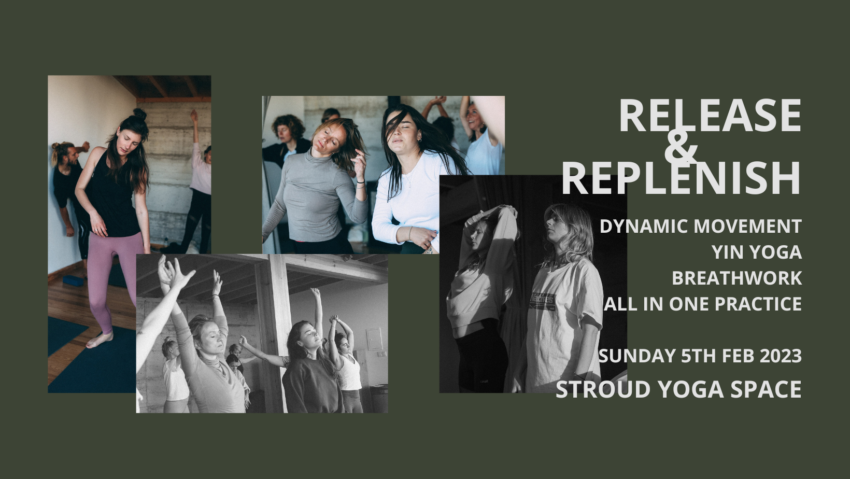 DYNAMIC MOVEMENT – YIN YOGA – BREATHWORK – ALL IN ONE PRACTICE
Do you find it hard to turn up to a class and immediately switch off and rest? Do you like the idea of working up a sweat but hate the idea that this needs to be in some kind of aggressive bootcamp? If you avoid cardio but love to move, this might just be for you…
This 1.5 hour class is a class of two halves:
1ST PART OF THE CLASS: DYNAMIC MOVEMENTS
WHAT?
Approx 20 mins of dynamic movements set to upbeat tracks. Think jumping jacks, burpees, jumping and dancing around. We use the breath and sound of voice (only if you want too) to shake up the energy and flush/release 'something' (mental-drama and stickiness; emotional stagnation such as sluggishness, over-excitement, frustration, stress; and physical discomfort) out of the system
WHY?
When we move, everything moves. You will meet your resistance. But, you will also meet the release.
In between music tracks we take moments of active recovery. Connecting to the sensations we've created. Assessing and Absorbing. We take a couple of those layers that prevent us from moving forward.
THE IMPACT?
Emotional (stress) release
Psychological relief
Letting down your guard
Experiencing authenticity
Recognising that you have a choice
(Re) igniting the inner spark
Strong resilient body
SECOND PART OF THE CLASS: TAKING REST
WHAT?
We take rest. We allow the body to reset. Letting the molecules of the body find their natural alignment. Yin yoga shapes, slow breathing exercises and meditation/yoga nidra support this process.
WHY?
To let the body come back to homeostasis. This is the way for the nervous system to come back to balance, trusting the body to do the work. We are so used to toxic rushing, wanting to go to the next,… By resting, we reprogram the neurological pathways in the brain and give ourselves permission to stay in the body. We feel the sensations and meet ourselves as we are in relationship to the world around us. Doing nothing and slipping into the "being mode" is probably the biggest practice of all. We need more of that. We need to rest more.
IMPACT?
Rearrangement of our whole self
Embracing vulnerability
Increasing sensory awareness and thus overall self-awareness
Increasing sense of self-agency
Self-regulation
It's time to begin again, to self-explore and feel all our feelings, because that's what they are for😊
With love
Sam
Investment: £20