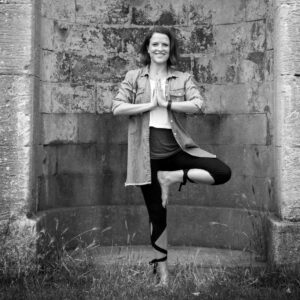 Meg went to her first yoga class around 17 years ago because she wanted arms as toned as Madonna's. Despite hating every minute of it with a Downward Dog that needed serious attention from the vet and a Triangle Pose that had as much poise as a melted piece of Toblerone, weirdly she was hooked.
Fast forward more years than she cares to mention, and she is a Yoga Alliance 500 hours registered teacher, with an additional 200 hours learning under the guidance of world-renowned teacher Jason Crandell. She has been a regular contributor to national publication Om Yoga Magazine, taught yoga on BBC Radio 4, and posed on a wobbly plinth in a Caribbean swimming pool.
Meg has taught in drafty village halls, for massive corporations, in nation-wide gyms, award-winning spas, at various music festivals, and at internationally renowned health resorts. Today she is the founder of Real Life Yoga, a movement to help people find ways to bring a little (or a lot) of yoga into their real lives. A Gloucester girl born-and-bred, Meg is delighted to be teaching in Stroud after moving here last year and has never felt more at home!
She still doesn't have arms like Madonna.
Classes
Yoga for Un-Bendy Beginners with Meg Jackson starts 14th January
ALWAYS WANTED TO TRY YOGA BUT DIDN'T THINK YOU WERE BENDY ENOUGH (OR THIN ENOUGH, OR YOUNG ENOUGH, OR OWNED ENOUGH LYCRA ETC.)? THIS IS EXACTLY WHAT YOU NEED!
This Real Life Yoga course is a deep-dive introduction to yoga; learn how even the un-bendiest of bodies can build a practice, and all the positive benefits this ancient way-of-living can have for our crazy modern lives.
This course of ten 60 minute lessons is the perfect way to start getting to know yoga a little better, and see how it can fit in and around your Real Life. Together we'll slowly learn basic yoga poses before exploring how they can be put into different combinations to make a 'flow' and help you feel fabulous!
We'll also look at all the other ingredients which can take your time on a yoga mat from just bending your body to feeling all kinds of brilliant. We'll learn how to use breath to work with your body (instead of against it), plus dive into some simple mindfulness practices to try and quieten that pesky mind.
Places are strictly limited, so please visit the website to book today: www.reallifeyoga.net/yoga-in-stroud/beginners-course
There is no such things as a silly question so if you have any queries or concerns please contact Meg either by email (meg@reallifeyoga.net) or visit the website for more information: www.reallifeyoga.net/yoga-in-stroud/beginners-course
The 10 Week Course
Starts Saturday 14th January. Final class on Saturday 18th March.
Price: £100 for the whole course. No drop-in sessions available.
| | | |
| --- | --- | --- |
| Saturday | 10.30am - 11.30am | Studio 1 |
Contact
To book classes or make further enquiries contact the teacher: