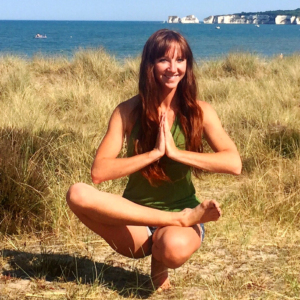 I am a qualified Yoga Teacher registered with Yoga Alliance (RYT 200).
I completed my training with Himalayan Yoga Institute which specialises in Ashtanga Hatha Yoga, a version of Raja Dhiraja School. It is a highly comprehensive form of yoga, the most complete system of self-development known today and is based on the original Ananada Marga system for all-round individual and collective development.
My yoga journey started 2 years ago at the age of 34. After having my first child I suffered from a painful trapped nerve condition in my shoulder blade, sciatica and feeling emotionally drained.  I've been practicing yoga daily for 2 years now and have fully cured myself from it. This practice had a profound influence on my life, making me reassess my values and look deeper within. I am vegan now and it was the single best decision I ever made. Thanks to yoga I managed to maintain a strong physical health, positive emotional wellbeing and outlook on life. After experiencing first-hand the profound effect of this incredible practice on the physical and general wellbeing, I am extremely passionate to share my knowledge with others and help them become the best version of themselves.
Classes
Ashtanga Vinyasa
My Ashtanga Vinyasa yoga classes are a beautiful fusion of ancient teachings with a modern approach.
It is a blend of Ashtanga Primary Series with funky Vinyasa Flows to bring you the most  benefit out of this powerful practice.They are flowing sequences of postures designed to strengthen your body, relax your mind and help you to find harmony in this increasingly busy world. They consist of Pranayama (breathing techniques), Asana (postures) and Yoga Nidra (deep relaxation). The Asanas (yoga postures) not only tone the muscles, increase flexibility and improve the posture through alignment, but they also have a profound impact on our endocrine (glands) and nervous system and will leave you with a sense of overall wellbeing.
You will learn how to connect your mind body and soul, work through any health issues, increase your strength and flexibility, raise your awareness, build more organic relationships with others and appreciate and respect the nature around you. Come and unwind with me at the end of the week and recharge for a weekend ahead.
My group classes are a moderate level suitable for beginners and advance students with modifications offered to explore the postures safely and deeply.
Cost of Drop In session is £12 or £45 for block of 5 sessions.
| | | |
| --- | --- | --- |
| Friday | 6pm - 7pm | Studio 1 |
Contact
To book this class or make further enquiries contact the teacher: