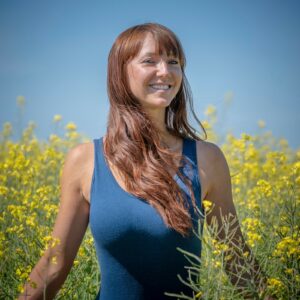 I am certified Yoga Teacher registered with Yoga Alliance (RYT 200). I completed my Course with the Himalayan Yoga Institute which specialises in Ashtanga Yoga, a version of Raja Dhiraja , which is a highly comprehensive form of yoga, the most complete system of self-development known today and is based on the original Ananda Marga system for all-round individual and collective development.I studied with spiritual teacher Ganga Devi. I now focus on teaching Deep Vinyasa and Mindfulness classes
My yoga journey started 5 years ago (at the age of 34) when my life was mainly revolved around motherhood and I suffered from severe physical pain as well as feeling emotionally drained after having my son.
My back in particular was in a bad way, debilitating pain of trapped nerves in my neck and chest region sometimes were unbearable. After endless osteopath and shiatsu healing sessions I decided to take matters into my own hands and started practicing yoga.
This journey had taken me on a wild ride.I became a yoga teacher a year after, progressed with my yoga practice, online presence etc.
But yoga spilled into every corner of my life. It became a philosophy of life, opened the door to the deep journey inward, to healing, transmuting my physical & emotional pain, to transforming, to growing…
My own journey of healing and recovering myself is a right of passage.
You don't need to be an experienced yogi, have flexibility, be of certain age or have certain body shape.
You just need ONE person who shows up for you, who meets you exactly where you are, to inspire and support deep and sustainable shifts in your practice, your well-being and your physical and emotional abilities.
Classes
Deep Vinyasa and Mindfulness
My Deep Vinyasa and Mindfulness yoga classes are a beautiful fusion of ancient teachings with a modern approach.
It is a blend of Ashtanga Primary Series with funky Vinyasa Flows to bring you the most  benefit out of this powerful practice.They are flowing sequences of postures designed to strengthen your body, relax your mind and help you to find harmony in this increasingly busy world. They consist of Pranayama (breathing techniques), Asana (postures) and Yoga Nidra (deep relaxation). The Asanas (yoga postures) not only tone the muscles, increase flexibility and improve the posture through alignment, but they also have a profound impact on our endocrine (glands) and nervous system and will leave you with a sense of overall wellbeing.
You will learn how to connect your mind body and soul, work through any health issues, increase your strength and flexibility, raise your awareness, build more organic relationships with others and appreciate and respect the nature around you. Come and unwind with me at the end of the week and recharge for a weekend ahead.
My group classes are a moderate level suitable for beginners and advance students with modifications offered to explore the postures safely and deeply.
Cost of Drop In session is £12 or £45 for block of 5 sessions.
| | | |
| --- | --- | --- |
| Friday | 6pm - 7pm | Studio 1 |
Contact
To book classes or make further enquiries contact the teacher: