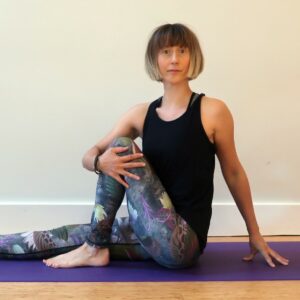 'Yoga has given me the tools to help navigate life in a meaningful and authentic way and this is why I want to share it with others.'
Sam is a qualified yoga teacher (200 hr Yoga Alliance Professionals UK accredited) and organic grower/farmer at Stroud Community Agriculture (SCA). She is passionate about the benefits of yoga, being outside, living seasonally and local, organic food and farming. 'I have seen the positive effects that each of these things has had on my mental and physical health and I feel honoured to be able to create opportunities for others to experience the same.'
The season and time of day profoundly influence the yoga that she teaches.Through the practice of yoga, we bring back our natural state of balance and harmony.
In a previous incarnation Sam taught Philosophy and Religious Education to secondary school students, teaching young adults highlighted the importance of creating a safe and inclusive environment for pupils to feel comfortable in; and this is something Sam aims to create in her yoga classes. For Sam, yoga is not about creating the perfect shape or indeed the perfect body, it is a tool to teach you how to respect and support the body that you have been given. Yoga is a tool to show you how we can be both strong and supple, overwhelmed and grounded, most importantly, it is way to help you accept exactly where you are; for that is where we are supposed to be.
Sam trained with the British Wheel of Yoga and Himalaya Yoga Valley (200 hour Yoga Alliance Professionals UK accredited) and continues to attend regular courses. She has attended workshops with Bridget Kramer Woods and Bill Mahoney and consequently her practice is influenced by Anusura yoga, with a strong attention on alignment and moving into postures with a steady foundation and supported strength.
All around us nature follows its regular rhythm: it has a time for energy, growth and vitality; a time for relaxation and plenty; a time for storing and harvesting and a time for withdrawal and solitude. In class we honour these cyclical rhythms which align us with the changing energies of nature and the seasons. Each class is designed to improve your physical strength and flexibility and bring balance and harmony to your life.
Classes
This teachers currently has no classes
Contact
To book this class or make further enquiries contact the teacher: