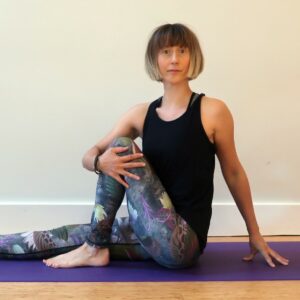 'Yoga has given me the tools to help navigate my life in a meaningful and authentic way and this is why I want to share it with others'.
Sam is a qualified yoga teacher (200 hr Yoga Alliance Professionals UK accredited) and organic grower/farmer at Stroud Community Agriculture. She is passionate about the benefits of yoga, being outside, living seasonally, community and local, organic food and farming. Having seen the positive effects that each of these things has had on her own mental and physical health she seeks to create opportunities for others to experience the same.
Sam has trained with the British Wheel of Yoga and Himalaya Yoga Valley (200 hour Yoga Alliance Professionals UK accredited) and continues to attend regular courses and workshops to extend and deepen her own knowledge. She has attended workshops with Bridget Woods Kramer and Bill Mahoney and consequently her practice is influenced by Anusura yoga (a school of Hatha yoga), which integrates deep spiritual teachings with a strong attention on alignment. Sam is currently part-way through a Seasonal Yoga course.
Classes
Yoga for Winter Warmth
The Slow and Silent Energy of Winter
Join me for a gentle winter yoga practice designed to align the body, heart and mind in a way that that encourages optimal circulation, strength, good health and wellbeing.
Contrary to what you might hear at this time of year, winter is not the best time to diet or start an overly vigorous exercise routine. Winter is a time to be kind to your body, to recharge (meditate and observe the breath), reflect and rejuvenate ready for Spring!
What You Can Expect in my Winter Classes:
– We will begin the class focusing on the breath to CALM the mind, encourage presence and prepare the body for practice.
– We will spend 5-10 minutes WARMING up the body (it's cold outside!).
– We will then move into a gentle FLOW, activating the bladder and kidney meridians, promoting detoxification and calm.
– We will then focus on 5-6 postures (asanas), working in a quiet and attentive way, keeping full attention on the postures we are in. In winter these asanas will be GENTLE forward-folds and back bends, bringing an awareness to the spine.
– The practice will finish with a 5 – 10 minutes savasana (deep relaxation), giving your body time to absorb the benefits of the practice.
These classes are inclusive, supportive and open to everyone (you do not need to have practiced yoga before).
Investment: Drop-in £12 per class or £60 for the 6 week WINTER course (Jan, 10,17,24,31 and Feb 7,14).
HALF TERM YOGA POP-UP * 21st Feb * – Reflecting on Winter and Preparing for Spring!
| | | |
| --- | --- | --- |
| Friday | 11am - 12pm | Studio 1 |
Contact
To book this class or make further enquiries contact the teacher: