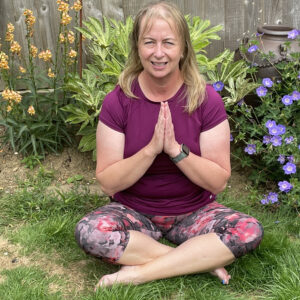 " I believe in starting your yoga practice as you are, where you are. Yoga is for everybody and I am passionate about holding space for everyone to practice in a safe, supportive and comfortable environment.
My love of yoga came from a desire to heal from cancer in 2005. I soon discovered that yoga  had so much more meaning and I was drawn deeper into the healing benefits of breath work, meditation and asana".
As a registered nurse and working through the COVID pandemic, I wanted to release the stress from being a frontline practitioner and focus on my yoga practice in my downtime.  I commenced my 200 hour yoga teacher training with the Academy of Yoga Teaching, in Bath for this reason. Recently, I have also completed my 50 hour Yin Yoga Training with Santosha Yoga School.
"My aim is to nurture a friendly community in every class. My classes are energising and grounding with calming breath work and yoga philosophy".
Classes
Yin Yoga – starts 1st August
Yin yoga is yielding, allowing and nourishing.
Yin is the perfect balance for our Western yang lifestyles and yang yoga practices.  If you have been doing yoga for a while you might discover that you have only been experiencing only part of the practice and achieving just some of the available benefits.
Most forms of yoga are dynamic, active practices designed to work only on the yang tissues, the muscles.
Yin yoga allows us to work the deeper yin tissues of our ligaments, joints, deep fascia networks and even our bones.
All tissues need to be conditioned to achieve optimal health and vitality.
Contact
To book this class or make further enquiries contact the teacher: