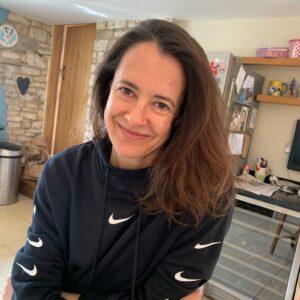 The thing I love about yoga is that it can be so many things for so many people. I still remember going to my first yoga class over 20 years ago, not quite sure what to expect, but being totally captivated by this new type of movement. I have always enjoyed being quite physical, but this was about more than just exercise – it was a whole workout for my body, mind and spirit. I left that class feeling lighter – physically, mentally and emotionally. That's when I realised I'd discovered something special.
Today, I try to incorporate that same sense of completeness in my classes. Yoga is a physical practice, but only as much as you want it to be. In my classes, I encourage you to listen to your needs and to find your own edge. Maybe today is the day you want to try a headstand or a flying crow – or maybe today is the day for lingering in child's pose. Finding that connection between your body and mind can be incredibly calming and also wonderfully liberating.
As well as holding my 200-hour Yoga Alliance teacher qualification, I am working towards my 500-hour Advanced Teacher Training accreditation. I have a special interest in working with teens and young people and have trained with the Teen Yoga Foundation to become a Teen Yoga specialist. I also hold a Level 3 First Aid certificate and am fully DBS-checked.
Classes
Beginners Yoga
We all have to start somewhere and yoga is no exception. If you're curious about the benefits of yoga, then why not come and learn the basics? I will teach you all you need to get started on your yoga journey, beginning with the all-important breathwork through to building the strength and flexibility you need to try some of the yoga poses, with a little bit of mindfulness thrown in too. We will explore sun salutations, warrior sequences, balance poses and more – so, leave your preconceptions about what you can or can't do off the mat and come and discover how yoga can help boost your body, mind and spirit!
£12 drop-in session
£60 for a 6-week pass
| | | |
| --- | --- | --- |
| Monday | 9.30am - 10.30am | Studio 2 |
Teen Yoga
As a trained Teen Yoga specialist, I have designed my teen yoga classes specifically with young people in mind. The classes are fun and friendly and give young people the chance to explore the benefits of yoga in a safe and supported space. I use a combination of movement and mindfulness, as well as partner work and games, to encourage a sense of connection with the body and mind. Whether it's to improve flexibility, build strength or to find a moment of calm after a stressful day at school, these classes will provide a much-needed mood boost for the student. Everybody is welcome, no experience needed, for ages 12-18.
Classes run in 6-week blocks during term-time:
£7 for a drop-in session
£36 for a 6-week pass
| | | |
| --- | --- | --- |
| Tuesday | 4.30pm - 5.30pm | Studio 1 |
Contact
To book classes or make further enquiries contact the teacher: