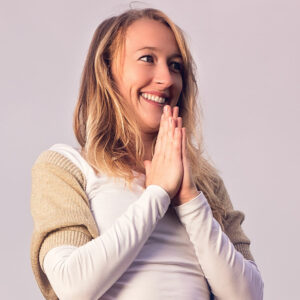 I went to my first yoga class 16 years ago. I really enjoyed the physical challenge, but what struck me most, was how completely relaxed and peaceful I felt at the end after Savasana, where we rolled over onto our sides for a couple of minutes in the fetal position. It felt like the deepest feeling of peace and relaxation I had ever experienced.
Over the years my practice waxed and waned but I kept coming back to Yoga and noticed how the more I was able to practice, the better I felt in every area of my life.
I decided to do a teacher training to make the study of Yoga the focus point for my life.
I completed a Vinyasa Flow teacher training with Alessandra Pecorella at Aditya Yoga school in 2014. I absolutely loved the course and have loved teaching, and continued study, ever since. I have now completed 3 advanced Teacher Training modules with Aditya Yoga School as part of my 500hr Advanced TT.
Yoga gives us the tools to live a more balanced healthy joyful life, countering our modern culture of over busy-ness and multi tasking.  With the rise of mental health issues, anxiety and depression, I think out society is crying out for a more healthy wholesome way of living.
As a teacher, my intention is to share the teachings of Yoga that have helped me so much. The practice reconnects us to our inner peace and joy. Once this is discovered, throughout the challenges of life, we can always return to this peaceful space on our mats, and in our hearts.
Classes
This teachers currently has no classes
Contact
To book this class or make further enquiries contact the teacher: