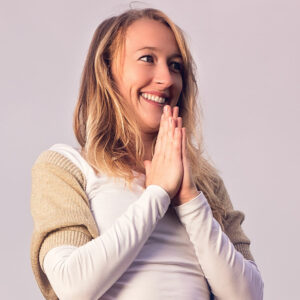 I went to my first yoga class 16 years ago. I really enjoyed the physical challenge, but what struck me most, was how completely relaxed and peaceful I felt at the end after Savasana, where we rolled over onto our sides for a couple of minutes in the fetal position. It felt like the deepest feeling of peace and relaxation I had ever experienced.
Over the years my practice waxed and waned but I kept coming back to Yoga and noticed how the more I was able to practice, the better I felt in every area of my life.
I decided to do a teacher training to make the study of Yoga the focus point for my life.
I completed a Vinyasa Flow teacher training with Alessandra Pecorella at Aditya Yoga school in 2014. I absolutely loved the course and have loved teaching, and continued study, ever since. I have now completed 3 advanced Teacher Training modules with Aditya Yoga School as part of my 500hr Advanced TT.
Yoga gives us the tools to live a more balanced healthy joyful life, countering our modern culture of over busy-ness and multi tasking.  With the rise of mental health issues, anxiety and depression, I think out society is crying out for a more healthy wholesome way of living.
As a teacher, my intention is to share the teachings of Yoga that have helped me so much. The practice reconnects us to our inner peace and joy. Once this is discovered, throughout the challenges of life, we can always return to this peaceful space on our mats, and in our hearts.
Classes
Hatha Flow
After easing through a warm up for all the major joints in the body we will move through a simple flow sequence matching movement with the breathe to stimulate the flow of prana, (lifeforce energy) and create warmth in the body. This has a balancing effect on both body and mind, as well as developing flexibility and strength. Always finishing the class with some calming wind down poses and then into deep relaxation in Savasana to receive the benefits of the practice.
 I use some music in my classes to compliment the practice as well as having periods of quiet when silence is more fitting.
I often plan my classes around the elements and the time of year: for instance in winter we might need to feed our inner fire with a more heating practice to warm us and wake up our energy, in summer when it is warmer and we are more likely busier, we may need a calmer cooling grounding practice. etc.
This class will be open to all levels of ability, there were will be modifications and options offered to fit your own bo
| | | |
| --- | --- | --- |
| Thursday | 9am - 10am | Studio 1 |
Dynamic Flow
An uplifting class to start the weekend. Linking breathe to movement we will flow through a dynamic sequence, helped along by an uplifting soundtrack. This will boost energy and ignite heat in the body, leaving behind any stress from your week.
In the spirit of Friday we will then wind down with some blissful supported restorative poses, leading our way into a deeply restful Savasana relaxation, accompanied by some appropriately calm and tranquil sounds.
| | | |
| --- | --- | --- |
| Friday | 7.30pm - 8.30pm | Studio 2 |
Contact
To book this class or make further enquiries contact the teacher: