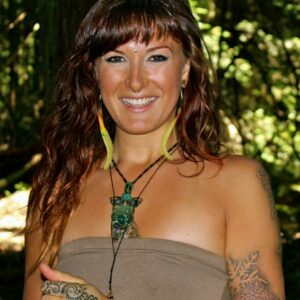 Nia stepped onto the path of yoga at 18, whilst studying massage and holistic therapies. The discovery of these tools for deeper experiences in the body and connection to spirit, inspired her commitment to a path of deep self enquiry and expansion. Since then she has explored and studied the teachings of many forms of yoga, free form movement, meditation, aromatherapy and holistic healing, as well as capoeira, belly dance and contact improvisation. She is a certified yoga teacher and trained at Pacha Mama in Costa Rica with Adya and Will.
"I am passionate about unveiling the truth and aligning us with our balanced power and true nature. I share that which comes through from my intuition and creative inspiration and am humbled and honoured to have the opportunities to co-create and guide soulful experiences for us. Our embodied spiritual practices can be our anchors as we relax into the grace of fluidity and let go of resistances. Like the waters that we are, we learn to trust life's ebbs & flows. May we know the nature of our hearts, the magic of our minds and the wisdom of our bodies. May we move gracefully and gratefully with our experiences, recognising challenge as gift and experiencing ourselves as living, healing transformation"
Classes
Beginners Yoga
This 7 week introduction to yoga will give you the basics to begin a safe and nourishing practice. The class's will be based on the postures in Hatha Yoga and Nia will also share some gems that she has picked up along the way from the different forms of yoga that she has practiced over the past 15 years. These will include breath practice, meditation, awareness and linking movements.
Each week will be based on a Chakra (energy centre) and its corresponding areas of the body. Beginning at the Root and with our feet and legs to create sturdy foundations that will support the rest of the journey.
Although there will be a theme for each class, each class will gently work the whole body, leaving you feeling relaxed and alive.
| | | |
| --- | --- | --- |
| Friday | 6.30pm - 8pm | Studio 2 |
Contact
To book this class or make further enquiries contact the teacher: