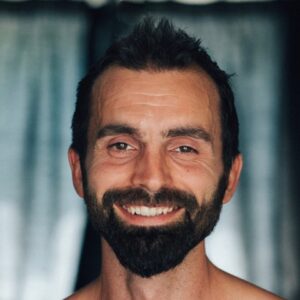 James is an enthusiastic yet down to earth coach. From an early age James has developed a passion for all things movement, from surfing & snowboarding to yoga & adult gymnastics.
At the age of 30 James made the transition from running his own electrical business to building his personal training career. He has studied gymnastic strength training and is a qualified GST coach.
The importance of breath work was developed while studying freediving in Thailand, which is where James's passion for yoga was born and more recently has studied the fundamentals of Vinyasa and Yin during a trip to Bali and Australia.
To deepen his understanding of the body James went onto gain qualifications in both Thai and Sports massage.
Whilst working a labour intensive job James began dedicating many hours to the weights room with the aim of improving his fitness. However, it became apparent through tight shoulders, recurring injuries and restrictive movement that his workouts were not serving
his needs. It was during this period he began to seek a more athletic movement based approach, finding this in gymnastics and yoga.
This approach is reflected in his class style where James incorporates his personal journey from strength through movement to flexibility and breath work. The aims of these classes are to not only achieve these elements but to build upon the fundamental connections
between mind and body, to form more conscious driven practice. The primary focus of these classes will be to build the intricate strength and body awareness required for specific asanas such as arm balances, transitions and inversions, while paying particular attention to core control.
James specialises in the deconstruction of asanas into movement specific exercises, these asanas are then reconstructed using the newly acquired awareness.
Classes
Core Connect and Condition
This class is designed for anyone looking to improve their core control and strength.
Each class will build on the core connection, bringing greater control as we start to gain a deeper strength and understanding.
We will look at anatomical reasons why we may find restrictions or difficulty in movement in order to understand, improve and refine.
Each session will leave you with a greater awareness and control of your body as well as leaving you feeling tested yet accomplished in your efforts.
| | | |
| --- | --- | --- |
| Tuesday | 1pm - 2pm | Studio 2 |
Head to Hips
This class is designed for anyone regardless of experience or ability.
Whether you work at a desk, to on site
as a builder or are recovering from an injury or looking to gain ease of movement and strength, then this class is for you .
Each class will address areas of tightness to leave you feeling:
Open and breathing more easily
More upright
Less restricted
Moving better
Through these classes you will start to benefit from:
Increased mobility
Improved posture
Increased body efficiency
Gains in both strength and stability
We will look at the anatomical reasons why you may be suffering from:
Headaches
Rounded / clunky shoulders
Wrist / elbow pain
Or any RSI (repetitive strain injury)
We will take the whole upper body into account in order to counteract the daily effects of our occupations and lifestyles.
We will start with a full body warm up, before bringing our attention to areas of tightness.
Taking time in each stretch, we will use breath work to melt away tension before moving on to building smoother movement patterns and strengthening areas of weakness.
From one class to the next we will build our practice based around familiar movements and holds adding additional material as we increase our range of movement and awareness.
Each session should give you a greater understanding of your body, a new set of tools to help keep it moving with greater ease, as well as leaving you feeling relaxed balanced and rejuvenated.
| | | |
| --- | --- | --- |
| Wednesday | 8.30pm - 9.30pm | Studio 2 |
Functional Flexibility – Lower Body Stretch
The class is designed to address areas of tension in the quadriceps, hip flexors, hamstrings and calves that can cause pain in lower back, hips, knees and ankles and aim to reduce and prevent muscular imbalances that may lead to injury and pain.
The class involves low intensity, mat based exercises to improve the range of motion through a mixture of passive, active and dynamic stretching. We use the breath to encourage a sense of ease and release, creating deeper connection from mind to muscle.
Ideal for keen runners and cyclists or for those in desk jobs.
| | | |
| --- | --- | --- |
| Friday | 1pm - 2pm | Studio 1 |
Contact
To book this class or make further enquiries contact the teacher: