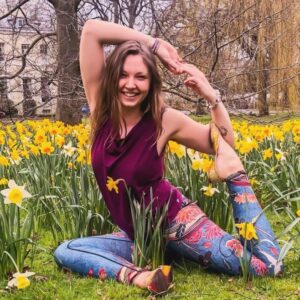 I took up yoga a couple of years ago, learning first hand about it's incredible power as a therapeutic tool in stressful and anxious times. Since then, I have developed a strong desire to share its benefits and have become particularly passionate about making yoga and mindfulness more available to young people as they deal with school and social pressures growing up today. I, for one, wish the mindful yoga practices had been introduced to me during my adolescent years! Having completed my initial 200 hour Yoga Teacher Training in Rishikesh, India, I have recently qualified as a Yoga and Mindfulness for Teens teacher with Charlotta Martinus of TeenYoga. I am excited to share yoga with everybody to help develop healthy and happy mind, bodies and souls.
Classes
Teen Yoga
In a world where teenager's are experiencing such high levels of academic and social pressures, whilst their bodies and brains are going through massive changes, it is so important to make sure they feel supported, healthy and confident.
​By teaching yoga and mindfulness, we can offer young people the tools to reduce stress, build strength and flexibility, learn to love themselves and escape for a little while. This class will strike the perfect balance between a physical practice where we can challenge our bodies and try out new things, whilst reflecting on mindful themes and enjoying some deep relaxation.
Cost – £40 for 6 classes
or £8 drop in
| | | |
| --- | --- | --- |
| Thursday | 4.30pm - 5.30pm | Studio 1 |
Contact
To book this class or make further enquiries contact the teacher: