A light, spacious, calm atmosphere
All our teachers are highly qualified in their particular school of yoga, and are backed by recognised authorised bodies such as Yoga Alliance and The British Wheel.
Yoga Studios
We have three beautiful studios, two with room for 12-15 people for a yoga class, and our newest addition, a smaller space for therapies and 121's. All have bamboo floors with underfloor heating, plenty of light and a spacious calm atmosphere. The studios are available to hire for Yoga, Pilates, Meditation, Holistic therapies, Dance and other movement classes, Singing and music workshops. The Sun studio is a nice light space for photographic work. Each studio is equipped with yoga mats, blocks, chairs, belts, bolsters, cushions and blankets for your support comfort and relaxation. It is also possible to hire the studios for workshops on Saturday afternoons, Sundays, and some other time slots during the week should they be available.
Hourly rent is from £18 for regular classes and £20 for individual events
Full Day ( 8 hours ) £122 per studio
Half Day ( 4 hours ) £72 per studio
3 Hours - £60
Concessions are available for not for profit organisations and charities
Therapy Studios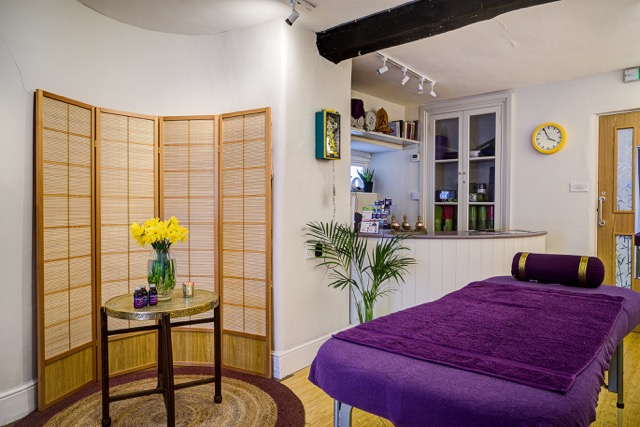 The Moon studio is our latest addition to SYS, this is a smaller studio room available to hire for Holistic therapies, one to one sessions and small groups of 4 or 5 people.

This studio is equipped with a massage bed and futon for therapies.
On Fridays and Saturday the room becomes a Yoga Shop for purchasing home practice equipment such as  mats, blocks, mat straps, mat towels and a range of good quality yoga clothing and so is not available to hire on these days.
Hourly rent is from £12 for therapies, 121's and small group sessions.
Cheaper rates of £10 per hour are available when booked as a block i.e for therapies.